SK Hynix Inc., the world's second-largest memory chipmaker after Samsung Electronics Co., has unveiled a new memory chip-based device that boosts the performance of artificial intelligence (AI) systems.
At AI Hardware & Edge AI Summit 2023 held in Santa Clara, California for three days from Sept. 12, the South Korean chipmaker showcased a prototype of AiMX, a generative AI accelerator card that combines GDDR6 chips to enhance AI performance.
The annual forum, hosted by UK marketing firm Kisaco Research, brings together global information technology firms and high-profile startups to share their technology developments in AI and machine learning.
This year marks the third time SK Hynix has participated in the forum.
An accelerator is a special-purpose hardware device that uses multiple chips designed for data processing and computing.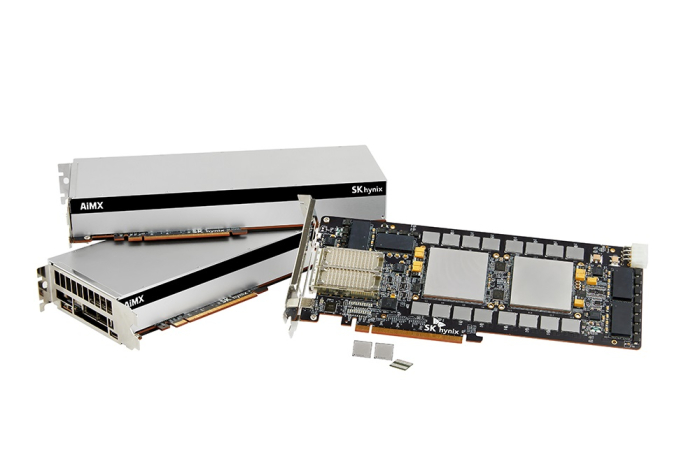 AiM, short for accelerator in memory, is an SK Hynix product that uses its processing-in-memory (PIM) chips that add computational capabilities to memory to handle a huge amount of data at a fast speed.
The company said its AiMX accelerator card is suitable for large language models such as ChatGPT, the global hit chatbot developed by Microsoft-backed OpenAI.
TEST-RUN ON META'S GENERATIVE AI PLATFORM
At the forum, SK Hynix demonstrated Meta Platforms Inc.'s generative AI open pretrained transformer (OPT) 13B model on a server system equipped with its AiMX prototype.
Generative AI is a type of AI that can create a wide variety of data, such as images, videos, text and 3D models, by learning patterns from existing data, and then using this knowledge to generate new and unique output.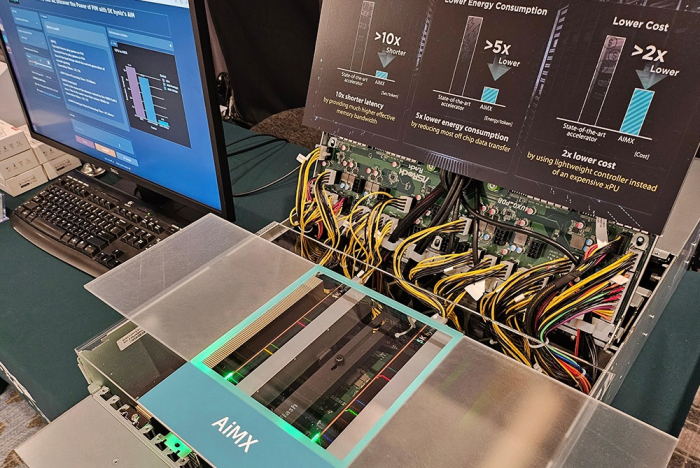 The AiMX system featuring GDDR6-AiM chips enables 10 times faster data processing speed than systems using conventional graphics processing units (GPUs), according to SK Hynix. The AiMX system consumes only one-fifth the power of GPU-based systems, it said.
"As a low-power, high-speed memory solution capable of handling large amounts of data, AiMX is set to play a key role in the advancement of data-intensive generative AI systems," the company said.
While comparing the performance of GPUs and AiMX at the forum, Lim Eui-cheol, vice president of the solution development division at SK Hynix, said its new product also costs less than conventional GPUs.
"We will continue to develop memory technologies that will lead the way in the era of artificial intelligence," he said.
Source: kedglobal.com