The developer of superb action-roguelite Cult of the Lamb has threatened to delete the game on January 1 amid a row with game engine company Unity.
Unity sent shockwaves through the video game industry last night when it announced a new policy that meant some developers would have to pay a small fee every time someone downloads a game built on Unity's game engine.
The Unity Runtime Fee, scheduled to take effect on January 1, 2024, was universally panned by developers on social media following the announcement. Unity later walked back some aspects of the policy amid escalating anger from developers, insisting the fee would only apply to the initial installation of a game, and that developers would not be on the hook for installations through subscription services such as Xbox Game Pass, with fees instead being passed to platform holders such as Xbox.
However, significant concern remains, and the backlash has only grown more vociferous overnight and into today. A number of high-profile developers have said Unity's new policy will significantly affect their plans, with some questioning whether they will use Unity going forward. But Cult of the Lamb developer Massive Monster went one step further, saying it currently plans to delete the game from sale on January 1.
"Buy Cult of the Lamb now, cause we're deleting it on Jan 1st," reads a tweet from the official Cult of the Lamb account.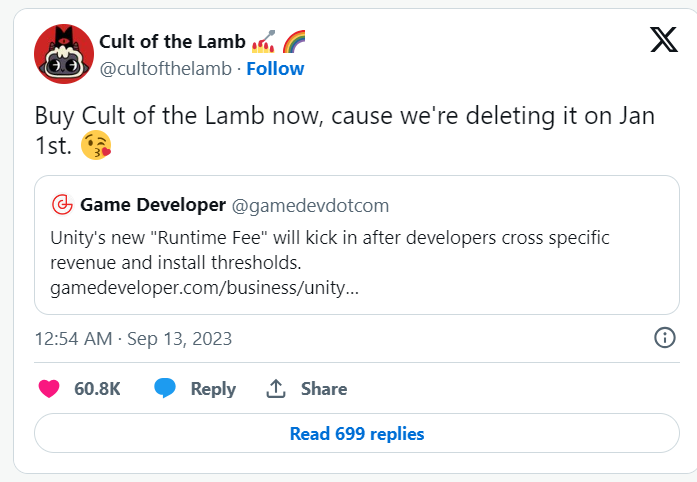 In a follow-up statement, Massive Monster called on Unity to "quit being stinky", adding the new policy will force a lengthy pivot to a new game engine for upcoming titles.
Cult of the Lamb publisher Devolver Digital doesn't sound thrilled about the situation, either.
IGN understands multiple publishers and developers of unnanounced Unity games are currently scrambling to prevent their deals from collapsing following the news, with first-parties concerned about absorbing increased costs. Meanwhile, Unity, helmed by former EA boss John Riccitiello, is under increasing pressure to scrap the policy entirely.
Source: ign.com